Museo Aeronáutico Tiflológico (MAT)

Paseo Colón
30720 SANTIAGO DE LA RIBERA (SAN JAVIER)
https://ciudaddelaire.sanjavier.es/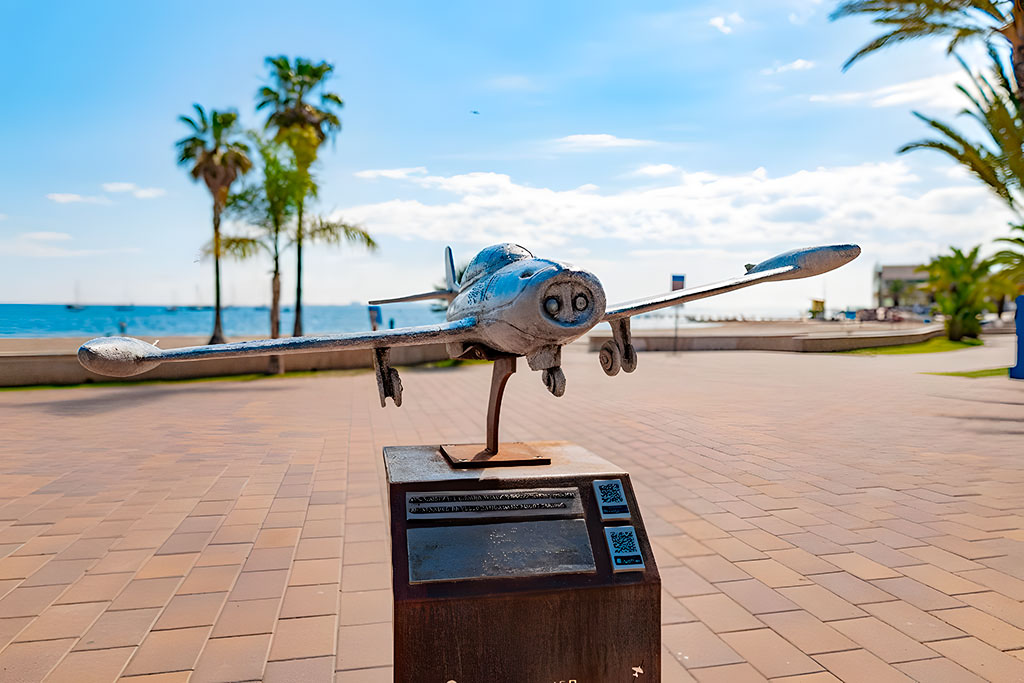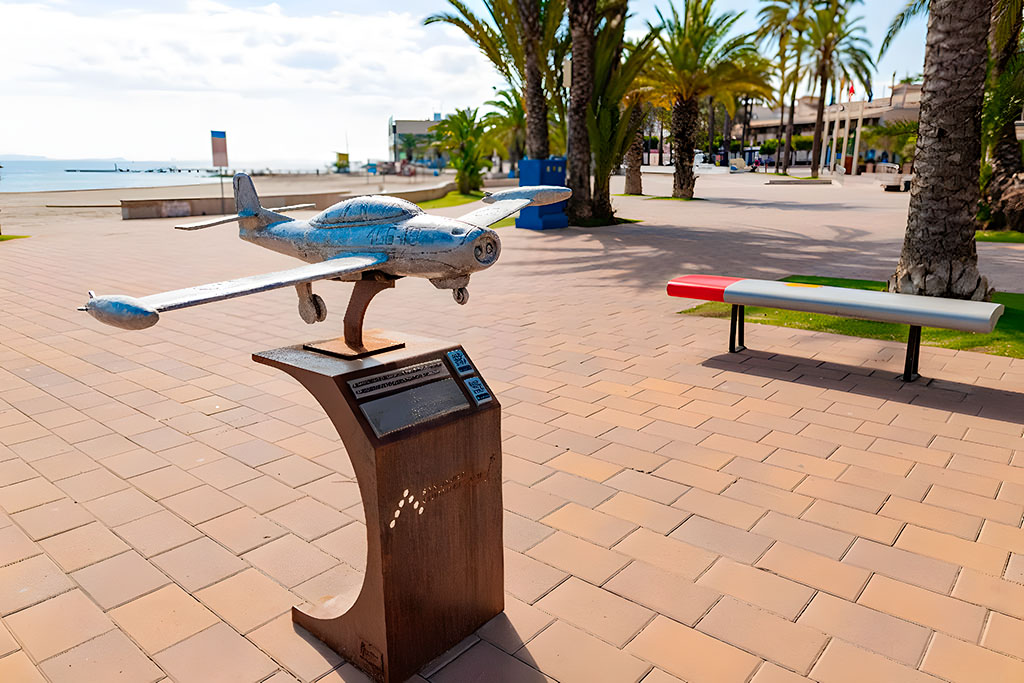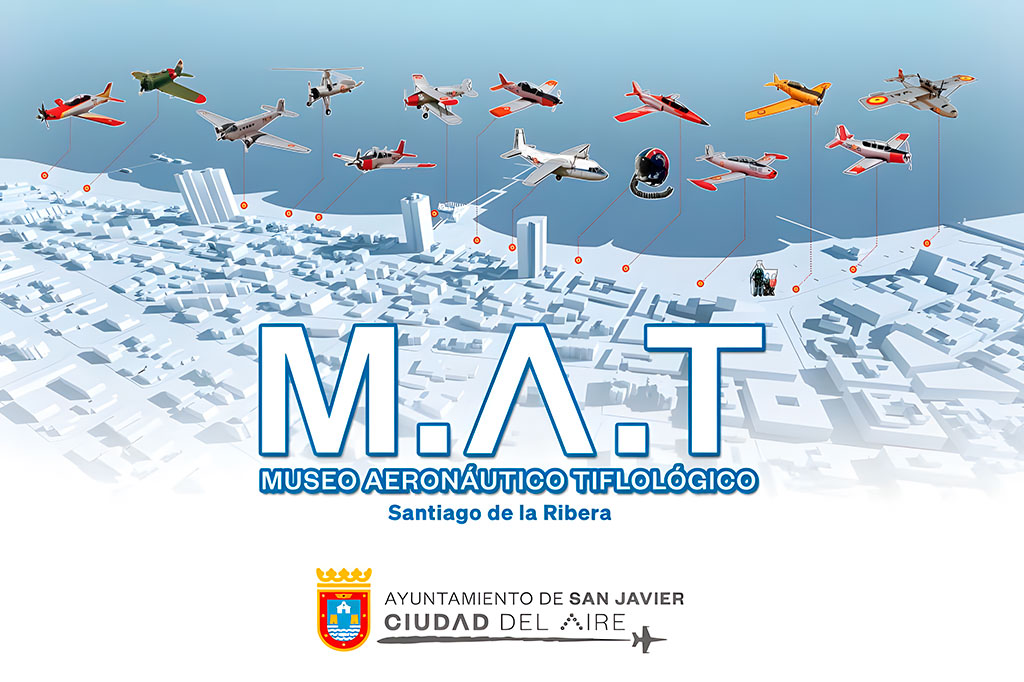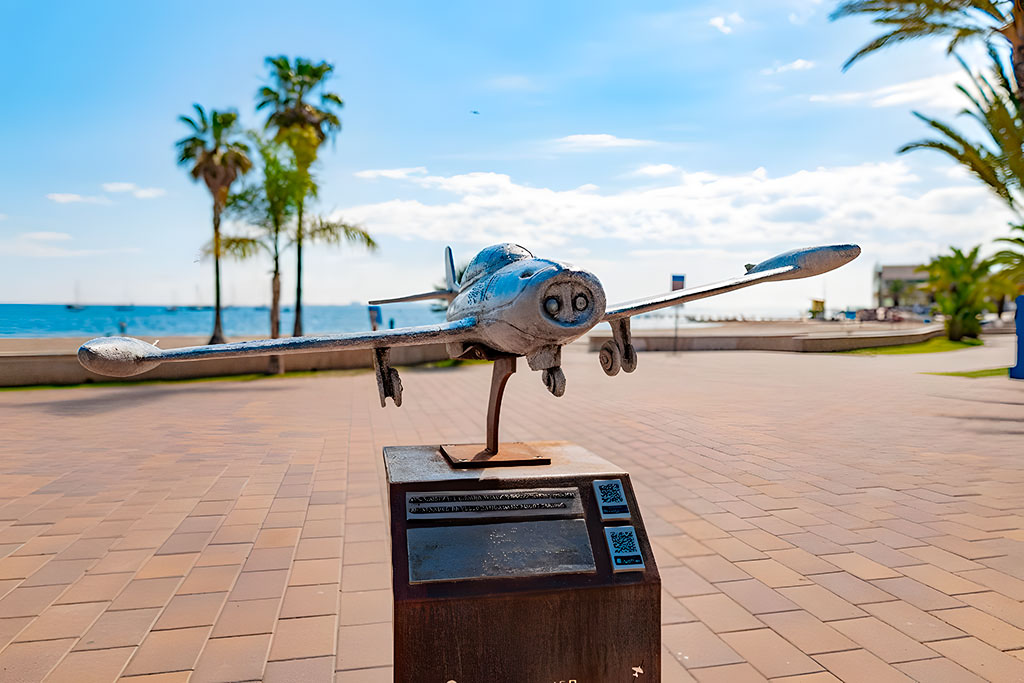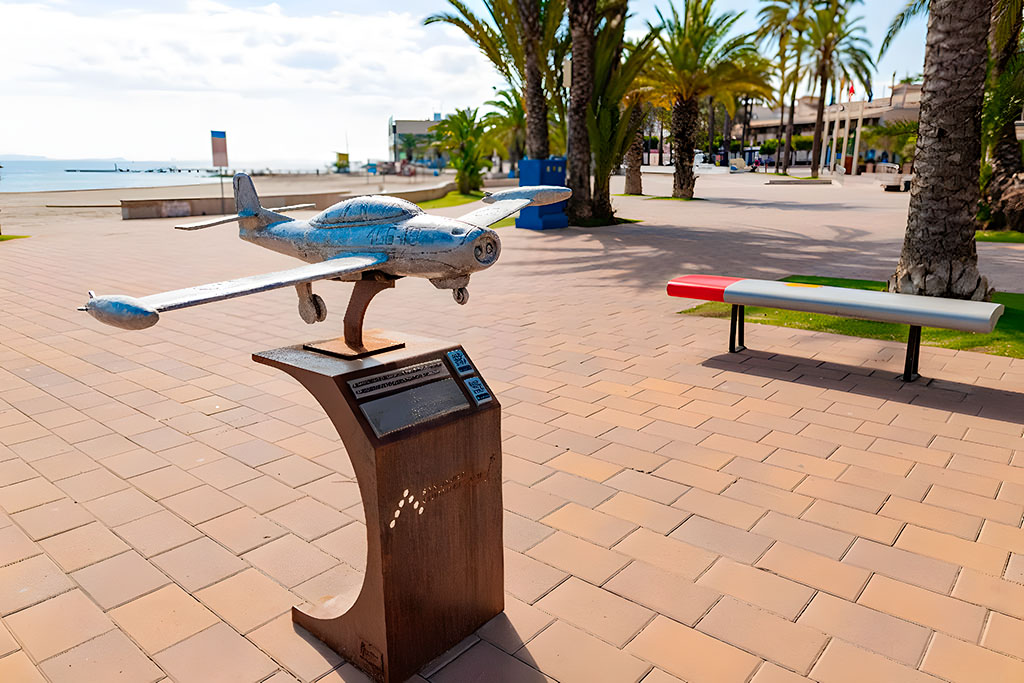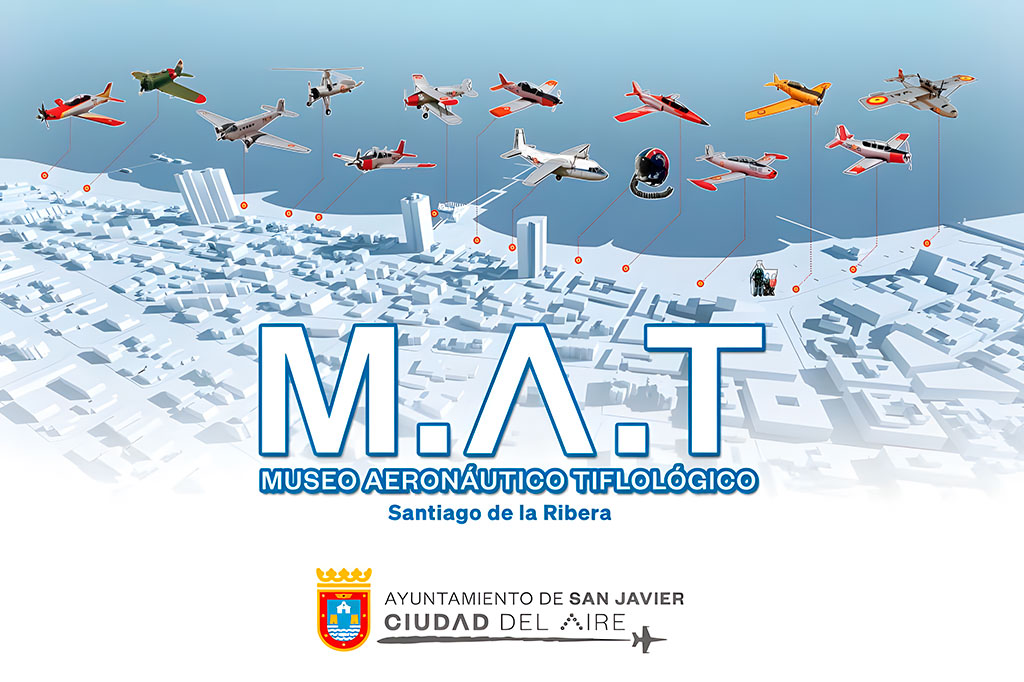 Information
SAN JAVIER TYPHLOLOGICAL MUSEUM
The Typhlological Aeronautical Museum (MΛT) is a new open-air venue accessible to all and adapted for the visually and hearing impaired, where visitors are provided with information through both sight (the traditional means) and touch. In order to help the visitor's understanding and enjoyment of the museum, the MΛT uses an easy-to-install QR code system, which provides immediate access to the contents of all exhibits in the museum, thus offering the visitor detailed information of each and every model exhibited throughout the circuit.
The relationship of San Javier with aeronautics is both close and old. The first airfield in the municipality dates back to 1920, when the Spanish Navy decided to build its first naval air station in Santiago de la Ribera as the main base of the Spanish Naval Aviation. After the Spanish Civil War, in July 1943, the military academy of the Spanish Air Force (AGA) was created with the purpose of standardising Air Force officers' training and it was located at the military facilities of the municipality of San Javier. The uninterrupted operation of air activities during over a century and its prestige as a flight training school have turned this military air base in San Javier into a worldwide reference.
The persistence of an aeronautical culture among the inhabitants of San Javier can be explained not only by their coexistence and the people's admiration for Aviation but also by the emotional and socioeconomic factors entailed by the arrival of the Air Force to the municipality.
The prosperity that developed in the 1920s with the arrival of the Spanish Naval Aviation in what was then a small fishing village increased with the creation of the AGA, which boosted growth not only in Santiago de la Ribera but in the whole municipality thanks to the modernisation of basic and supply infrastructures. The arrival of the Air Force led to the construction of the colony "Julio Ruiz de Alda", new primary and secondary schools and entailed the development of new services to accommodate the growing population that came with the foundation of the AGA in San Javier.
Aeronautics in San Javier has achieved great milestones, such as the celebration of the Aire06 Festival, which was organised by the Air Force on the beaches of Santiago de la Ribera and brought together more than 500,000 people and more than one hundred aircrafts at a festival that won the award for Best European Air Festival in 2006 awarded by the European Air Show Council. The celebration of the AGA's 75th Anniversary in 2018 was another example of the close relationship between the military institution and the City Council of San Javier. This celebration consisted of a series of joint events, which culminated in another crowded air festival and contributed to the consolidation of San Javier as the heart of aeronautical culture in Spain.
The history of Spanish Aviation is closely linked to the municipality of San Javier and specifically to the town of Santiago de la Ribera, whose magnificent flight conditions have allowed for the performance of more than a million flight hours from 1920 (when Spanish Naval Aviation arrived) to 2020. A century of relationship between San Javier and aeronautics are exhibited in this open air MΛT.
The exhibits currently displayed in the MΛT are a three-dimensional photocall, five models of the most characteristic aircrafts throughout the air base's history (Dornier J "Wal", Beechcraft T-34 "Mentor", North American T-6 "Texan", Hispano Ha-200 "Saeta" and CASA C-101 "Mirlo"), and five benches designed to catch the essence of each aircraft, reproducing the colour and aircraft insignia that characterizes them visually.
The three-dimensional photocall is a space in which visitors can capture the moment so that they can have an unforgettable family memory of their stay in Santiago de la Ribera. It portrays a family of pilots, highlighting the utter coincidence that there is a married couple of pilots currently serving as members of the aerobatic Patrulla Águila (eagle patrol), with which San Javier wants to highlight the presence of both men and women committed to Spain in the Army and pay tribute to the "military family" in a symbolical manner.
The exhibition begins with the typical aircraft in the Naval Air Station at that time (1920-1939), the hydroplane, among which the German Dornier J "Wal" stood out. This was one of the best-known aircrafts during that period and continued to be flown until the end of the Civil War. The "Wal" performed several deeds, such as being the first plane to reach the North Pole with Ronald Amundsen. Another of the landmarks of this plane was carried out by the Spaniards Ramón Franco, Julio Ruiz de Alda, Pablo Rada and Juan Manuel Durán in 1926, when they crossed the South Atlantic covering 10,270 kilometres.
In 1958, the Academy received the Beechcraft T-34 "Mentor", which proved to be one of the best teaching aircrafts in the history of San Javier. Kings Juan Carlos I and Felipe VI trained as pilots in it; the former during the first year of operation of this model and the latter in 1989, the Mentor's last year of operation. It is considered the safest aircraft in the history of the AGA.
In 1962, another mythical plane arrived at the Academy. The North American T-6 "Texan", which was mainly used as an advanced trainer and reconnaissance aircraft and took part in the Sidi Ifni and Sahara conflicts. The "Texan" continued to be flown until 1982, when it was replaced by the C-101.
In 1972, flight training in the AGA was enhanced by receiving the Hispano Ha-200 "Saeta" aircraft, the first jet aircraft manufactured in Spain, with two turbines, a tandem cockpit and a cruise speed of 600 km/h. In Spain, the Saeta was operational between 1962 and 1981, the AGA being the last unit equipped with this aircraft model.
In 1980, the CASA C-101 "Mirlo" aircraft, made in Spain, arrived at the AGA. It meant a great qualitative leap for flight training and has since then become the longest operating aircraft at AGA. The C-101, which is considered an excellent flight trainer and which reaches speeds of 770km/h, will go down in history for enabling the creation of the famous Patrulla Águila. In 1985, a group of instructors, taking advantage of the C-101's capabilities, decided to create an aerobatic team that was baptized the Patrulla Águila and which has ever since increased the prestige of the AGA, representing the Air Force and making San Javier known all around the World.
ACCESSIBILITY
El patrimonio y el turismo son actualmente una herramienta básica para desarrollar una ciudad accesible y sostenible. Es en sentido que surge la idea de crear el primer Museo Aeronáutico Tiflológico (MΛT) al aire libre, que es un nuevo espacio accesible para todo tipo de público y adaptado a personas con discapacidad visual o auditiva, en el que la información, además de la tradicional visual, se canaliza a través del sentido del tacto. Para favorecer la comprensión y disfrute, el MΛT utiliza un sistema que por código QR, de fácil instalación, facilita el acceso inmediato al contenido de todas las piezas que componen el museo, ofreciendo al visitante información detallada de cada una de las maquetas expuestas a lo largo de todo el recorrido del museo.
Todas las maquetas disponen de un texto en braille con los datos básico del avión.
La altura a la que están colocadas las maquetas es de aproximadamente un metro, lo que facilita que el visitante con limitaciones visuales y/o con movilidad reducida pueda disfrutar de la visita cultural.
A lo largo del recorrido del museo hay instaladas una serie de balizas sonoras que, a través de la descarga de la app beepcons, van indicando al visitante el lugar en el que se encuentra en referencia a la maqueta de los aviones más próxima.
En el mismo sentido, el atril informativo del museo es regulable en altura, adaptándose a las necesidades del visitante.
Las piezas principales que componen actualmente el museo son cinco maquetas de los aviones más característicos que ha habido a lo largo de la historia de la base aérea y ordenadas cronológicamente.
¿Qué es BEEPCONS?
Este proyecto impulsado por Fundación ONCE, el sistema BEEEPCONS se define comoun sistema de guiado por medio de Balizas inteligentes "beepcons" que facilitan alas personas con discapacidad el acceso a los contenidos de los museos.Tanto en visita guiada como libre, el usuario accederá a información sobre las obras,videos y audios explicativos. Asimismo, incorpora reconocimiento automático de imágenespara poder acceder a la información de cualquier obra con sólo enfocarla con eldispositivo móvil.También incluye el modo juego, con el que el visitante puede aprender aún más y de unamanera diferente y divertida con técnicas de gamificación (aplicación de técnicas propiasde los juegos en ambientes no lúdicos) acerca de los trabajos expuestos; e informaciónsobre el tipo de accesibilidad, así como vídeos explicativos en lengua de signos yaudiodescritos.Los Beepcons funcionan como balizas señalizadoras basadas en la tecnología ibeaconsque se apoyan en una APP móvil para enviar información relevante del entorno a laspersonas que se encuentran cerca. De este modo, los Beepcons permiten:•Avisar de la cercanía de una zona señalizada, enviando una notificación al smartphonedel usuario.•Informar sobre que hay en la zona y a que distancia, mostrando información de todoslos elementos existentes y sus descripciones, así como si fuera necesario ampliar lainformación redirigiendo al usuario a una localización•Localizar elementos cercanos, gracias a una de sus particularidades únicas a nivel deaccesibilidad, haciendo que el propio beepcon emita un pitido para que asi pueda serencontrado fácilmente.A su vez, los beepcons son compatibles con los protocolos de comunicación del resto debalizas punteras del mercado (iBeacon y Eddystone) lo que los convierte en una de lasmejores opciones y brinda posibilidades casi infinitas.La app se encuentra disponible para móviles compatibles con bluetooth de baja energía,para los sistemas operativos iOS y Android. Cuenta con una herramienta online paraactualizar contenidos desde internet.Este sistema es efectivo en otros campos comoturismo y espacios patrimoniales visitables.Estás son algunas de las consideraciones básicas que deberían ser comunes a todos los museos y lugares de ocio.