THE RESIDENCES MAR MENOR GOLF & RESORT"



Mar Menor. C/ Ceiba
30700 TORRE PACHECO
Telephone: +34 968 041 840 - 629 407 068 / Fax: +34 968 041 845
e-mail: theresidences@marmenorresort.com
http://www.marmenorresort.com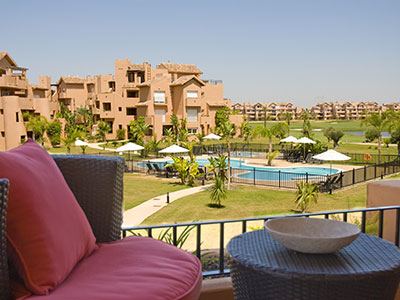 Information
The apartments "The Residences Leisure & Experiences" at Mar Menor Golf Resort are located at the heart of the residential complex "Mar Menor Golf Resort" in Torre Pacheco (Murcia), front line, facing the 18 hole course "Mar Menor Village Golf", which is part of the IRM Golf Experience circuit, with courses created by Nicklaus Design.

These apartments have been designed by the prestigious architects practice Melvin Villarroel, who have blended architecture and nature in an "integral design", based on the architecture of the void. The apartments open onto a big garden area and a community pool.

These exceptional apartments, which don't leave any details to the imagination, enjoy a beautiful and bright living room, completely furnished with modern and comfortable furniture, TV and Internet access. Kitchen completely equipped, with microwave oven, fridge and washing machine; and bathroom/s completely furnished. 1, 2 or 3 splendid bedrooms, all exterior, with either terrace or garden and community pool. All apartments have views to the golf course, which is scattered with lakes.

Guests have access (upon payment) to the facilities at Hotel Intercontinental Mar Menor, right next to the apartments, which include spa, restaurants, an English pub and golf club house.

It's excellent location, just a few minutes drive from the best beaches in Murcia, 5 Km from all the nautical offerings in La Manga del Mar Menor and very close to natural environments and touristic routes, make this place a privileged location for your rest without forgetting your leisure and activities.
Capacity

Apartments:

CALLE BONSAI - Urbanización: MAR MENOR - 3 LLAVES
4 Apartments 3 Bedrooms (7 People)

21 Apartments 2 Bedrooms (5 People)

CALLE ESPLIEGO - Urbanización: MAR MENOR - 3 LLAVES
12 Apartments 1 Bedroom (3 People)

6 Apartments 2 Bedrooms (5 People)

CALLE ZARZA - Urbanización: MAR MENOR - 3 LLAVES
1 Apartment 3 Bedrooms (7 People)

6 Apartments 2 Bedrooms (5 People)

CALLE ESPLIEGO - Urbanización: MAR MENOR - 3 LLAVES
14 Apartments 2 Bedrooms (6 People)

19 Apartments 1 Bedroom (3 People)

CALLE ZARZA - Urbanización: MAR MENOR - 3 LLAVES
4 Apartments 3 Bedrooms (8 People)

9 Apartments 2 Bedrooms (6 People)

AVENIDA ALCALDE PEDRO ROCA VERA - Urbanización: MAR MENOR GOLF RESORT - 3 LLAVES
29 Apartments 2 Bedrooms (6 People)

3 Apartments 3 Bedrooms (7 People)

16 Apartments 1 Bedroom (3 People)

1 Apartment 1 Bedroom (2 People)